About us
Blackbrook Environmental Enterprise (BEE) was established in January 2006 as a means of conserving the farmland and woodland belonging to Blackbrook Farm. By joining a drystone walling course at Blackbrook you will learn not only the fundamentals of an ancient craft but will also help to conserve some 6km of drystone walls.
The courses are run by Will Husband. Will is a Drystone Walling Association accredited instructor and for the last 8 years has worked both for the Peak Park and as a private walling contractor.
Our courses are fully insured and our instructors are qualified first aiders.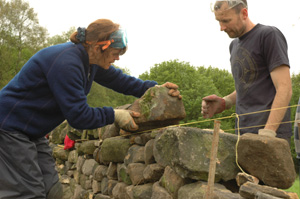 Did you know?
Apart from being an important part of our heritage dry stone walls form a valuable habitat for flora and fauna. Toads, frogs, lizards, wrens, mice,ferns, foxgloves, lichens, beetles and weasles and others can all be found living in or around dry stone walls.
Apply